One of the many things we do is set up Facebook Profiles. It is important to fully fill in profile information and to have a to-the-point description in the About section, since that always shows up on the side bar on the left of the Facebook page.
We do these things, but our favorite part of setting up a Facebook Business page is creating the page's profile picture.
The maximum width for a Facebook image (as displayed on the profile page) is 180px. Which isn't a whole lot of room. The good thing is that this image can be much longer. The maximum height is 540px (as displayed on the profile page). Which makes a good size space for you to add some color to a page, add information, or add an image that really expresses the brand.
One important thing to keep in mind is the page thumbnail. The thumbnail is the small square image that shows up next to your page name whenever you post on Facebook. This thumbnail is taken from your profile picture. To get a good thumbnail make sure there's a square portion that's almost as wide as your profile image dedicated to giving your page a good thumbnail. (To set your page thumbnail: After you post your profile image you can click to 'change picture' and 'edit thumbnail' to pick the appropriate part of your profile image to be the thumbnail.)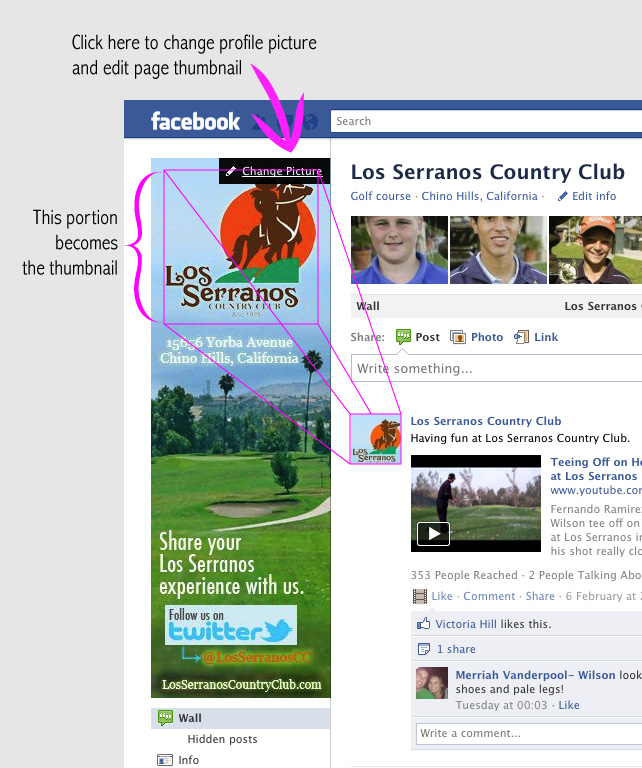 When designing a Facebook profile picture I usually make sure the logo takes up nearly the whole width of the image, that it has a square portion all to itself, and there's no distracting background behind the logo. This portion will make up the thumbnail. Then I work with the colors and the attitude of the business to create something appealing and attractive. Sometimes it is important to get more information in the Facebook image, one thing I always try to include is some contact information. It should always be easy to find out how to get in touch with a company. I always keep the Facebook layout in mind when designing these pictures. Once I get the image together I like to put it into a screenshot of a Facebook profile so that I can really see how it's going to look on the page. After a little fine tuning and approval from the business owner we post it up and admire how much a well crafted profile picture can really enhance the look of a Facebook page.
Keeping the Facebook layout in mind can let you have a little fun with profile images.Try adding a shadow to the edges of an profile picture to create a little bit of depth, or use the white background to your advantage by adding rounded corners. The white background could also be useful in creating a super 3-d look, a photo at an interesting angle with a white background could be used in the profile picture to create a really dynamic effect.



Lacey's super special tip: Most people recommend that the Facebook page profile picture be 180px wide by 540px tall, but it's better to upload a page image that is 250px wide by 750px tall. That way when the profile picture is opened the image viewer it will be full size.
If you would like help setting up a Facebook page for your business, or if you already have one but want it maximized contact Contact Zeb Welborn at (909) 973-9088. Be sure to ask about the other Facebook services we provide.
Get More Great Information
Subscribe to Our Email List
Latest posts by Lacey Welborn
(see all)