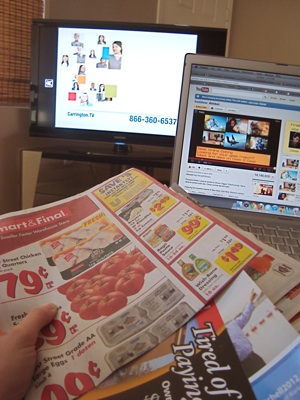 Direct mail, radio commercials, television commercials, billboards, flashing web advertisements, pop-up ads, and horribly timed telemarketing phone calls are all forms of marketing most people find extremely annoying. They are intrusions in our lives — always interrupting. They're not like social media marketing. The biggest difference between this kind of marketing and social media marketing is that people get to pick and choose which social media messages they receive.
On Facebook you choose which pages you like, on Twitter you pick who you follow, when it comes to blogs you pick which ones you read. Social media allows you to subscribe to messages for the products and services you actually want to hear about.
Marketing your business to only those that want to receive your message at times during their day when they're able to take in your message is more effective and less expensive than other forms of marketing. There are two forms of marketing, inbound and outbound. Inbound marketing is any form of marketing that helps you get found by potential customers. Outbound marketing is marketing that interrupts consumers and forces the message on them. When you think about it like this, outbound marketing sounds rather rude.
Social media has quickly become the most effective means for inbound marketing. But, simply switching your messages from outbound marketing outlets to your social media outlets isn't enough. Outbound messages are trying to be heard over the massive amounts of other messages that a person is bombarded with each and every day. Outbound messages are the equivalent of screaming at someone. Inbound marketing in the form of social media is for people who are already seeking out information from you. They may appreciate something with more detail. And, since social media platforms are a place for conversation, it's a perfect place to be conversational and to encourage interaction.
Social media marketing is ideal for both businesses and consumers. Don't just try to be heard. Invest in social media marketing, get your message to those customers who are not only interested in your message, but are also at a point in time when they can fully absorb your message and interact with your brand.
At Welborn Social Media we truly believe that every business can benefit from social media marketing. If you're interested in social media services for your business please contact Zeb Welborn at (909) 973-9089 or email Zeb@WelbornSocialMedia.com
Get More Great Information
Subscribe to Our Email List
Latest posts by Lacey Welborn
(see all)