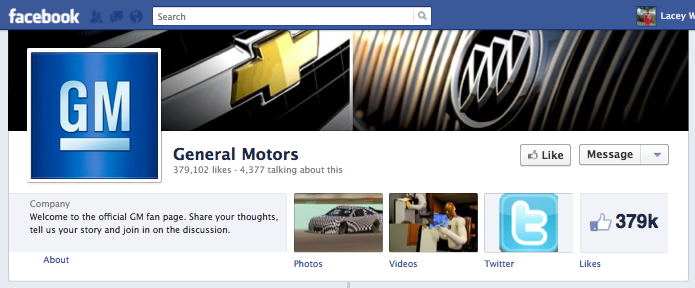 General Motor's decision to end its $10 million Facebook advertising campaign is big news in the social
media world. Many skeptics have used GM's decision to pull their advertising dollars from
Facebook as a way to attack the effectiveness of social media marketing for businesses.
However, these skeptics fail to recognize the difference between social media marketing and
social media advertising. GM still loves Facebook and recognizes the importance of social media marketing, but has
failed to recognize the correlation between the Facebook advertising feature and profits. GM's
decision to pull money from Facebook advertising has nothing to do with the effectiveness of
Facebook as a social media marketing tool.
GM is still spending 30 million dollars on Facebook content promotion. Despite having ceased
paid ads on the site, the car-maker continues to make full use of the social network. Their
Facebook page remains very active with several posts every day. This includes links to articles
about their products and their partners, as well as more traditional advertisements.
GM has built their Facebook following to 345,000 people through Facebook advertising. The
massive following they now have allows them to stop using Facebook ads, because
their 345,000 Facebook followers act as a built-in referral network to bring more customers
to their Facebook page. Facebook page interaction will attract new followers on a consistent
basis without advertising because their followers can interact with the page and share it with
their friends. The more "likes" they get, the more exposure they get.
According to a Mashable article, GM issued the following statement: "We are reassessing our
advertising, but remain committed to an aggressive content strategy with all of our products and
brands, as it continues to be a very effective tool for engaging with our customers."
Don't let people convince you that Facebook is not a useful tool because GM has pulled its
advertising dollars from Facebook. Arguments can be made either way about the effectiveness
of Facebook advertising; however, it remains clear that Facebook content promotion is
highly effective to engaging with a captive audience. Many other companies, including car
manufactures, say they do not plan on pulling their Facebook ads any time soon. Experts agree
that the ads can be an important part of a marketing campaign, but it is important to implement a
complete strategy that interacts with its audience in ways that keep their attention after bringing
them in with an ad. As a Ford representative put it, "It's all about the execution. Our Facebook
ads are effective when strategically combined with engaging content and innovation."
GM's decision to pull their money from Facebook advertising may also not just be because
of the effectiveness of Facebook, but of GM's decision to cut massive amounts of advertising
expenditures. GM also made big news recently for stating that they intended not to purchase a
$3.8 million dollar Super Bowl ad this year. Leading many to believe the new Chief Marketing
Officer, Joel Ewanick is seeking ways to cut his expenditures and is not cutting his
advertising just from Facebook ads, but across the board.
As a marketing tool, Facebook has proven its effectiveness time and time again. The percentage
of companies using Facebook to expand is increasing every month and sees no signs of slowing
down. Those companies that do not adapt to social media are missing out on a large captive
audience. In an increasingly digital world, traditional methods of advertisement don't have the
same pull they used to. However, Facebook still has a lot to learn in terms of figuring out the
marketing game and knowing what exactly it has to offer. As its products continue to evolve,
companies that want to use social media will have to continue to adapt. We highly encourage
any business to develop a Facebook page and use Facebook as a way to connect with current and
potential customers. Having a Facebook presence is a built-in referral network. Don't miss out
on the opportunity.
Get More Great Information
Subscribe to Our Email List
Latest posts by Lacey Welborn
(see all)