Marketing vs. Advertising
Advertising: The paid, public, non-personal announcement of a persuasive message by an identified sponsor; the non-personal presentation or promotion by a firm of its products to its existing and potential customers.
Marketing: The systematic planning, implementation and control of a mix of business activities intended to bring together buyers and sellers for the mutually advantageous exchange or transfer of products.
When talking with business owners and decision makers we are constantly inundated with questions about ROI, or Return on Investment.  While platforms like Facebook, Twitter and Google have attempted to address those concerns the fact remains that it is difficult to track the complete ROI benefits social media can bring to a business.  Advertising makes it very easy to track the ROI of a particular campaign because it's a one-shot deal which can be easily tracked.  Marketing on the other hand is very difficult to assess because it encorporates the overall plan of a business to attract new customers.
Marketing is a strategy, and advertising is a tactic that can be an implementation of a marketing strategy. However, advertising does not usually work alone toward its goal. Other tactics such as market research, media planning, public relations, product pricing, distribution, customer support, sales strategy, and community involvement are implemented alongside advertising. All of these elements must not only work independently but they also must work together towards the bigger goal. A tactical executive may be very skilled at putting into motion plans to get results, but fail to see the bigger picture. That is why they may confuse advertising for marketing. Strategic executives will have a better grasp on bigger concepts, but may not understand the best way to reach their customers.
In Chet Holmes' book, The Ultimate Sales Machine, he tells us there are three types of executives, "A full 90 percent are what I call 'tactical executives,' while 9 percent are what I'd call 'strategic executives.' And only 1 percent – the most effective executives – possess the rare combination of both tactical and strategic abilities."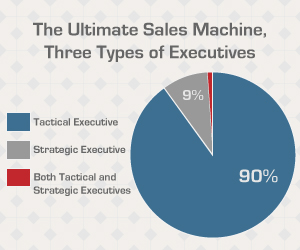 Holmes goes on to say, "Tactical executives think only in terms of making the sale for today. They don't understand strategy . . . Strategic executives will often look at the situation from a global perspective and see if they can develop some high-level strategy that might help to solve the problem. These executives are brilliant. They create concepts, ideas, and strategies that most would never adopt. But strategic executives are not good at, or interested in, tactics. Hence, I've seen many big ideas that never come to fruition because strategic executives fail in the implementation of their big ideas."



The executive who thinks both tactically and strategically can develop the big ideas and the big strategies and also use discipline and determination to see those brilliant strategies implemented at the tactical level. And just for the record, the second type of executive, the strategist, can often be paired with a strong tactician and be very successful. However, the strategist may have to keep explaining and selling his or her ideas again and again to the tactical executive."
Social media is most effective when it is used as a strategy and not a tactic.  While a social media campaign can include some tactics and advertising features, it is most successful when used as a tool to market to potential and current customers.  When done properly social media can have a profound impact on any business.
To use social media properly it is imperative to become a social business.
Get More Great Information
Subscribe to Our Email List
Latest posts by Lacey Welborn
(see all)