Congratulations Allie Nosek on winning our contest and receiving a $50 Gift Card to The Thirsty Lion, located in Tempe, Arizona.  Allie entered the contest by dropping in one of her business cards at our booth at the 2011 Business Growth Expo.
Allie does Marketing and Graphic Design for The Orthopedic Clinic Association(TOCA).
At the Expo, Allie mentioned she understood the importance of social media, but also expressed her concerns about effectively demonstrating the return on investment (ROI) social media can bring to her company.  We are in the process of scheduling a phone interview with her to discuss how we can evaluate the impact social media can make for The Orthopedic Clinic Association.
Many companies express the same concern with ROI. It becomes difficult to justify the use of social media when thought of in those terms.  However, there are many tools companies can use to evaluate how people are connecting with their business using social media.  If you or your company would like to understand how to better manage or understand how to use the data that is available through social media outlets – ask us.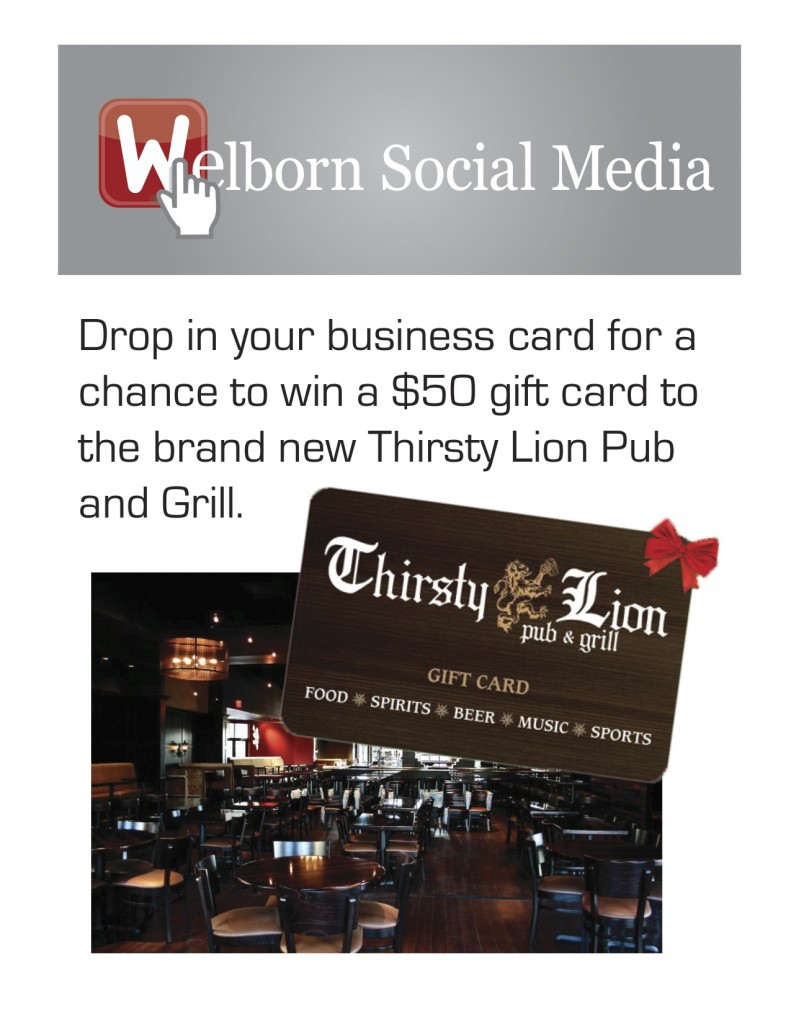 The 2011 Business Growth Expo was an eye-opening experience for us.  It was our first business expo and we had no idea what to expect.  We were thrilled to meet so many helpful and friendly people.  And we look forward to keeping in touch with them for years to come.
We chose a $50 Gift Card to The Thirsty Lion Pub & Grill  for our contest. It is a new establishment located in the Tempe Marketplace at 2000 East Rio Salado Suite 1041, Tempe, AZ.  They have a large selection of food and more than 50 beers on tap.
After the Expo, my sister and I made our way to The Thirsty Lion. We were hungry and ready to relax, we were not disappointed.  The food, service and atmosphere was phenomenal . . . exactly what we needed on a long, productive day.
Get More Great Information
Subscribe to Our Email List
Latest posts by Zeb Welborn
(see all)