Another year has flown by! At the end of each year we like to reflect back on the year we had. It's become a tradition to do a top ten each year. When we sit down and think about how we started it feels amazing to acknowledge how far we've come.
Here is our top ten from 2017!
#10 GolfChat
A few years ago Zeb Welborn started #GolfChat, a twitter chat for golf fans and golfers.Who knew it would grow on to become its own wonderful little corner of the internet. #GolfChat took place every Tuesday on Twitter at 5PM PST with the help of @golfbandwagoner and @ConnectGolf. If you're invested in golf, you should join us in 2018.
The chat has sparked some great conversations and debates prompting the establishment of #GolfChat Authors. #GolfChat Authors have contributed articles on golf to give their thoughts and opinions on ways to improve golf. #GolfChat is the place for knowledgable and thoughtful golf experts to share their insights on the golf industry. Check out GolfChat Authors, Click Here.
One of the highlights of the year was having Ron Sirak, award winning golf writer and, Brandel Chamblee, analyst at the Golf Channel, jump into the chat. Looking to make 2018 another great year for #GolfChat.
#9 A Company Visit to Santa Barbara
Santa Barbara is a beautiful city on the beach. This year we worked the Santa Barbara's Parks and Recreation department to promote their events and facilities.
We made the trip to Santa Barbara to shoot some video and take pictures of the venues throughout the city of Santa Barbara. We were so lucky as the weather was perfect and the venues came out looking great.
Here's one of the videos we did about the Historic Carrillo Ballroom at the Carrillo Recreation Center.
Part of the fun of our job is some of the new exciting opportunities that get presented to us. Spending several days in Santa Barbara was definitely a highlight.
We love Santa Barbara and wish the city and all its citizens a fast recovery from the Thomas Fire.
#8 Helping Passionate People Become More Successful
This year we've continued working with some amazing clients and started working for others.
It's always exciting to start working with a new client. Hearing about their business and their passion for what they do always helps to energize us in the work we do.
This year we worked with Eye Eco, Scott Goodwin Associates, DI Solutions, Los Serranos Country Club, Arroyo Trabuco Golf Club, NextLinks, GoodFaith Medical Transportation Inc., Co., Santa Barbara Parks & Recreation, Village Greens of Woodridge Golf Club, Beckett Tires, Anaheim Hills Golf Club, Realtor Lyle Ballard, Town Square Florist, Riverwalk Golf Course, Bernardo Heights, San Bernardino County, Indian Wells, Anaheim Hills Golf Course, Dad Miller Golf Course, Being True to You, Benham Advertising, Cinnabar Hills Golf Club, CORE Real Estate, CrossCreek Golf Club, Desert Island Golf & Country Club, Integrity Cremations, Intensity Security, KKW Trucking, Konvert Golf Marketing, Lettuce Wok N Roll, Oke Poke Claremont, OoMaLoo, Paul Cushing Turf Professional, REALiTEE Golf, Robinson Ranch Golf Course, Bernardo Heights Country Club, Servpro Chino/Chino Hills, Steve Pennington, Strawberry Farms Golf Club, Tony's Truck Shades and Dale Bright Auto Center to name a few.
Thank you to everyone who worked with us in 2017.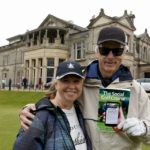 #7 The Social Golf Course in Scotland & Viral Golf Videos
No one has been more supportive of us and this business than our parents. They are the best! This year they had some wonderful adventures including a trip to the very heart and soul of golf, Scotland. They brought copies of the book The Social Golf Course written by Zeb Welborn and delivered the book to key individuals at St. Andrews, Royal Dornack, Brora and Elie.
It's great to see The Social Golf Course at the Home of Golf.
Viral Golf Videos:
Two golf videos we created this year went viral. One was a video of Zeb Welborn interviewing John Powell about his world record-breaking round of golf where he shot 22 strokes under his age.
John Powell's video was picked up by several major golf publishers throughout the country and he got lots more publicity for his remarkable accomplishment.
It was great helping get John Powell be recognized, he loved the attention he got from our video.
The second viral video was an interview I had with Bruce Loman, one of the first members of the Callaway Golf team. He's seen Callaway become one of the biggest brands in golf and he shared the story regarding his experience with the company.
The interview came about purely by chance as Bruce recognized me coming off the 18th Hole at Strawberry Farms Golf Club. He was open to doing an interview right then and there.
#6 Sponsored Scott Goodwin Associates Firefighter Training Program
Scott Goodwin Associates provides the best online firefighter training for fire departments across the country. This year they launched a new program to allow individuals, groups and businesses to sponsor tactical simulation training for firefighters and fire departments across the country.
Welborn Media got the unique opportunity to sponsor the Corpus Christi fire department. A sponsorship valued at over $165,000. We even got some airtime on the local news station. Read about it here: Fire Department Receives Training Donation
And see our news coverage here: CCFD Receives Donation of $165,000 Training Service
#5 Southern California Charity Golf Classic
The 3rd Annual Southern California Charity Golf Classic was held at Los Serranos Golf Club on July 29.
This year we raised $14,401.87 and brought the total amount raised for local charities (since we started) to over $33,000. Thank you to everyone who organized, sponsored, donated and played in the SCCGC!
#4 Rotary Club President
When Zeb assumed the role of Rotary Club president he saw a big opportunity. Rotary which is known for doing good both in the community and around the globe is an organization that younger professionals would want to be a part of if they just knew more about it. Since Zeb has taken the help of the Chino Rotary they have seen record growth that will continue in 2018.
Learn more about what we've been able to accomplish with the Chino Rotary Club in 2017.
#3 Zeb Welborn Speaking Engagements
Zeb has a passion for education by helping others understand how to more effectively promote their business and making the world a better place.
This year we spoke at events hosted by San Bernardino County Workforce Development, Inland Empire Small Business Development Center, Rotary clubs, local Chambers of Commerce, the California Golf Course Owners Association, and the Arizona and Nevada Chapters of the National Golf Course Owners Association.
28th Annual Rotary International District 5300 Peace Conference
On October 21, Zeb was invited to speak at the 28th Annual Rotary International District 5300 Peace Conference on the Impacts and Uses of Social Media on Peace Building.
The engagement was very well-received and Zeb Welborn has since been invited to attend the Rotary International Zone 25 & 26 Institute in Reno, act as the Public Relations Chair for Rotary International District 5300 for 2018/2019 and be on the Board of Directors for the Rotary International Peace Conference.
Zeb is planning on doing more speaking in 2018 including speaking engagements with the San Bernardino County Workforce Development Board, the City of West Covina, the Inland Empire Small Business Development Center, the Pasadena Rotary Club, the University Club of Pasadena, the Chino Valley Chamber of Commerce and the Upland Rotary Club.
#2 Birth of Our Darling Niece
Just about a year ago our brother Rocky became a father and we got to meet our niece. She is simply amazing. An animal lover who enjoys food, she is already very good at sharing. We are so excited to see her grow and to be a part of her life!
#1 New Baby Coming in 2018
We're happy to announce that Cindy, Zeb's wife, is pregnant with their second child – a girl. 2018 is going to be another great year full of joy, laughter and excitement. Sebastian is super excited to become a big brother.
---
It is not lost on us how fortunate we are to be able to do the work we do with people who never fail to be interesting and passionate. So many people have helped us get to where we are.
We have a lot of plans for 2018 and are looking forward to another memorable year. We hope you all have an absolutely amazing 2018!
Thank you all for everything!
Zeb & Lacey Welborn
Get More Great Information
Subscribe to Our Email List

Lacey and her brother Zeb Welborn founded Welborn Media. She has designed and launched websites, several projects, marketing materials, a podcast, a book and more. Her passions include her family, her friends, creating things and helping businesses grow.

Latest posts by Lacey Welborn (see all)