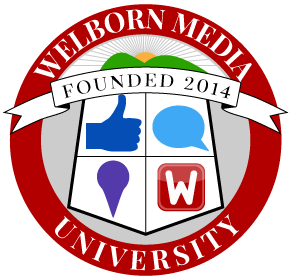 We've been dreaming of and working on Welborn Media University for years and we're excited to announce our first ever course…
The Ultimate Facebook For Business Online Course
My email inbox is flooded with emails asking for help on Facebook, whether it be questions, clarification, problems, or just how to be better at it.
Our business, Welborn Media, started with the goal to help small businesses become successful online.  As our business has grown so have our prices and many small businesses who we intended to help — want to hire us, but can't afford to do so.
That's when we came up with the idea for Welborn Media University. A social online learning system to educate business owners so they can share their passion and grow their business.  Because of the immense value we've achieved for our clients using Facebook we knew our first course would have to be The Ultimate Facebook for Business Online Course.
In the build-up to launching this class, we've been sharing our thoughts and ideas with others and we can't tell you how exciting the response from the business community has been.
When we think of the type of person we wanted to create this course for, we thought of our good friend Jim Keneaster, the owner of ABC Computer Services in Chino, CA. Jim is involved in our local Chamber of Commerce and what struck us about him was the enthusiasm he had for his work. But, Jim was struggling to reach his business goals. We knew social media could help and we tried to figure out ways to work with one another, but Jim simply couldn't afford our monthly services.
And so, we couldn't help Jim. Until now…
This online course allows us to help so many more people: passionate, hard-working, and enthusiastic small business owners. We can teach small business owners like Jim to use Facebook to reach their business goals.
In 30 10-minute lessons that you can consume all at once or follow along with a one-a-day schedule, for a one-time fee of $299, you can learn everything you need to know about Facebook. The Ultimate Facebook for Business Online Course shares absolutely everything we've learned from managing dozens of Facebook accounts for all types of businesses.
It is a 30-day online course featuring:
Step-by-step videos that show exactly how we set up, grow, and build Facebook business pages
Assignments at the end of each lesson to motivate participants to take action
An online community to collaborate and work with (Private Facebook Group)
Podcast episodes discussing Facebook and social media
Images, videos, and text sharing all kinds of information
Plus there's all kinds of other bonuses, find out more by CLICKING HERE.