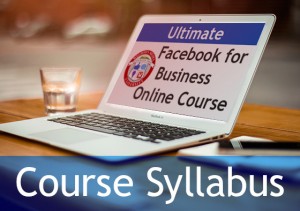 Last week we announced our first ever course for Welborn Media University.
Welborn Media University is a social online learning system formed to educate business owners so they can share their passion and grow their business.  Because of the immense value we've achieved for our clients using Facebook we knew our first course would have to be The Ultimate Facebook for Business Online Course.
We've pooled together all our experience working with dozens of businesses in a variety of industries on their Facebook business pages to create this course.
Today we want to give you a sneak peak of all the information we're going to cover in the course.
Do remember this information is only showing a portion of what the course will cover. In addition to these daily lessons we will also have group discussions, podcast interviews, live webinars, and more.
This is going to be a social course that will be shaped by our participants. So everyone who enrolls can have input on the content we cover.
Click Here To Enroll Now »
Syllabus

for The Ultimate Facebook For Business Online Course

Unit #1: Start with Facebook for Your Business
Why Should You Use Facebook for Your Business
Build a Facebook Business Page from Scratch
Visually Optimize Your Facebook Cover Image and Profile Picture
Use Your About Section to Maximize Your Facebook Exposure
Unleash the Power of Facebook:  A Case Study
Unit #2: Build a Following on Facebook
Build a Following on Facebook: Introduction
Get People to Like Your Facebook Business Page
Build a Following Without Using Facebook Advertising
Leverage a Community to Grow Your Audience
Build Your Following with Facebook Advertising
Unit #3: Facebook Advertising
Facebook Advertising Basics
The Most Effective Way to Spend Your Money on Facebook Advertising
What Are Facebook Dark (Unpublished) Posts? And How to Use Them
Unit #4:  Create Compelling Content
Ultimate Content Creation Strategy
Use Facebook Insights to Create Killer Content
Tips & Tricks to Help You Get More Engagement on Your Facebook Business Page
Simple and Easy Facebook WINS – Basic Actions Anyone Can Do To Quickly Produce Tangible Results
Best Methods for Posting Links to Facebook
Common Mistakes and How to Avoid Them
Unit #5:  How to Make Money Using Facebook
Top of Mind Marketing
Sales Funnel
Direct Sales
Unit #6:  More Ways To Use Facebook
Run Contests
Troubleshoot – When I Have an Issue with Facebook, Who Do I Turn To?
Keeping Up with Facebook Changes
Facebook Apps
Use Facebook to Grow Your Email List
Unit #7: Wrap-Up:  Welborn Media University's Ultimate Facebook for Business Step-by-Step Strategy
Manage Your Facebook Time – Effective Strategies to Maximize Your Effort on Facebook in Less Time
The Most Effective Way to Use Facebook for Your Business
Build Trust Using Facebook
Measure Your Facebook Effectiveness
Click Here To Enroll Now »
What lesson in the course are you most interested in?
Get More Great Information
Subscribe to Our Email List

Lacey and her brother Zeb Welborn founded Welborn Media. She has designed and launched websites, several projects, marketing materials, a podcast, a book and more. Her passions include her family, her friends, creating things and helping businesses grow.

Latest posts by Lacey Welborn (see all)