On New Year's Eve Grace Arndt will be celebrating her 100th birthday. After all the experiences she's had, she knows what she likes. When the preparations were being made for her 100th Birthday Bash, she was asked what food she'd like to have at the party. She chose her favorite meal, Kentucky Fried Chicken.
Grace, after her nearly 100 years, will share stories of how she and her family got through the Great Depression, how she used to help her mother run a boarding house, and how she used to love to dance: ballroom dance, foxtrot, waltz and tango. She has always loved music and in her younger days she played the piano and the drums and also ran a tavern with her husband called Arndt's Music Bar. Today she is described as vivacious, fun-loving and intelligent.
When KFC got news of this vivacious, KFC loving, 99-year-old they offered to donate lunch for her milestone party. KFC shared this news on their Facebook page, and people from all over the country have been using that post to wish Grace a happy birthday. There is also this page, titled Grace Arndt, that has dozens of birthday wishes from family and friends as well as random Facebookers.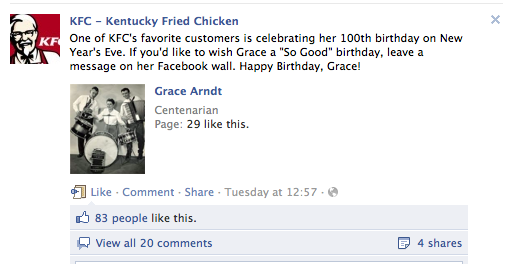 Everyone is encouraged to wish this soon to be centenarian a Happy Birthday on her Facebook page to help her celebrate such a huge milestone.
Social Media is an amazing thing. It allows us to connect, re-connect, keep in touch, and interact with people from around the world. It can help a 99-year-old KFC fan get a free fried chicken lunch for her and her family and friends. It provides the opportunity for anyone who has a Facebook to be a part of celebrating 100 years of life.
Happy 100th Birthday Grace! We wish you all the best!